Introducing our first #HECeggspertchef Chef Matt Woodhouse from New Order Prahran, making a delicious Nduja Scotch Egg with fennel mayonnaise and pickles!
Chef Matt has been using Honest Eggs Co. for several years now and thinks our eggs are "unparalleled" (his words, not ours)!
He chose this simple dish as a homage to his British roots, not to mention it also tastes divine and looks super impressive.
Try your hand at making this dish, and stand a chance to win 15 dozen cartons of Honest Eggs Co. open range eggs!
HOW TO ENTER:
If you haven't already, follow us on Instagram @honesteggsco
Like this competition post on our Instagram feed
Post an Instagram story or post of your attempt at the dish (using any brand of eggs)
Don't forget to tag us @honesteggsco and #HECeggspertchef so we can track your entry as well as @Mattwoodhousechef + @neworder_prahran
Good luck and happy cooking!
RECIPE
Nduja Scotch Egg with fennel mayonnaise and pickles
Makes 4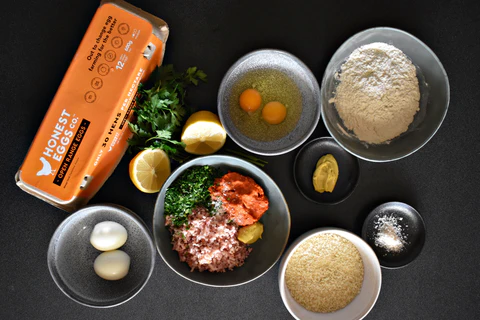 For the scotch egg
4 Honest Eggs
100g nduja (spicy spreadable salami)
150g pork sausage mince or finely chopped streaky bacon
1 tsp Dijon mustard
Small bunch of parsley, finely chopped
Pinch of salt
500ml canola oil, for frying
For the crumb
4 Tbsp plain flour
2 Honest Egg yolks
100g panko breadcrumbs
For the fennel mayonnaise
2 Honest Egg yolks
1 tsp Dijon mustard
Juice of half a lemon
1 tsp fennel powder
250ml grapeseed oil or any neutral flavoured oil
Pinch of salt
For the pickles (optional)
500ml apple cider or white vinegar
250g caster sugar
250ml water
1 tbsp sea salt
1 tbsp coriander seeds
1 tbsp fennel seeds
1 tbsp peppercorns
1 bunch radishes, cut lengthways
1 bunch baby carrots, peeled and cut lengthways
METHOD:
For the pickles bring the vinegar, sugar, water and spices to a boil then pour over the vegetables in separate sterilised jars.  Let cool to room temperature, cover and refrigerate for at least 2 hours.
For the mayonnaise put the egg yolk, mustard, lemon juice and fennel powder in a bowl and whisk for 3 minutes. Gradually add the oil in a thin stream until the mayonnaise thickens. Season with salt.
For the scotch egg, bring a pot of water to the boil.  Carefully soft boil 4 honest eggs for 5 ½ minutes and immediately plunge into ice water to stop the cooking process. Leave for 10 minutes to completely cool before peeling.
TIP: Bring your eggs to room temperature before boiling.
Mix the rest of the scotch egg ingredients together and roll into 4 equal sized balls and chill for 15 minutes.  Once chilled, roll out each ball into a thin circle and wrap around a peeled egg ensuring that it is equally coated without any gaps.
For the crumb whisk the egg yolks in a small bowl.  Lightly flour each prepared egg and shake off any excess. Dip each egg into the egg wash and then into the breadcrumbs ensuring as much egg as possible drips off before crumbing. Repeat the egg wash and breadcrumb process again.  This will ensure it has a nice coating and won't explode when cooking.
On a medium heat, add the canola oil to a heavy based pot.  After a few minutes add a few breadcrumbs to the oil.  When they start to lightly bubble the oil is ready.  Gently add your scotch eggs 1 at a time and cook for 6 to 7 minutes, carefully turning the egg so it is evenly cooks to a golden brown colour.  Leave to rest on kitchen paper for 5-10 minutes before cutting in half.  Serve with a spoon of mayonnaise and the pickles (optional).
COMPETITION TERMS & CONDITIONS
This competition is open to residents of Victoria, Australia only.
Best looking and/or similar looking dish wins as judged by the Honest Eggs Co. team.
Judges decision is final and no correspondence will be entered into.
This competition is in no way endorsed or sponsored by Instagram.
Entries will be closed 11:59pm AEST 22 April.
One winner to be announced 23 April in our comments on Instagram and we will DM to arrange delivery.