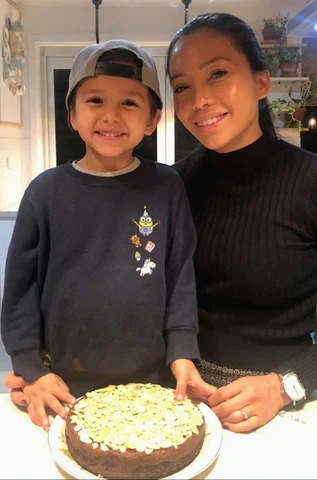 We understand many of you having been finding ways to keep your little ones busy during this time. So we figured what better way to have your cake, and eat it too?
Showing us how its done, we've enlisted the help of Chef Nanette O'Connor from Duck Duck Goose and Larder together with her Sous Chef (and son), Enea, showcasing a Chocolate Olive Oil Cake for our second round of #HECEggspertChef!
From Chef Nanette:
My son, Enea (5 years old), and I love to make this cake together. Particularly during this lockdown period where flour and other baking supplies are hard to come by. This cake is great as it caters for different diets being wheat and dairy free as well as low FODMAP friendly. This is a much requested dish in our household and something we can easily make together with ingredients we always have on hand. As a chef, I really love to showcase local suppliers with really fantastic products and through this cake the ingredients really shine. You can really elevate this cake by serving it with some stewed rhubarb which has just come into season and some vanilla mascarpone.
Honest Eggs Co. is exactly it's namesake: honest eggs. Growing up as a child with chickens there was nothing I loved more than having fresh eggs, simply boiled, with salt and toast for dipping – a tradition that has been continued with my son. Our eggs of choice are Honest Eggs, you can definitely taste well kept, happy chickens through their eggs!
Try your hand at making this dish, and stand a chance to win 15 dozen cartons of Honest Eggs Co. open range eggs!
HOW TO ENTER:
If you haven't already, follow us on Instagram @honesteggsco
Like this competition post on our Instagram feed
Post an Instagram story or post of your attempt at the dish
Don't forget to tag us @honesteggsco and #HECeggspertchef so we can track your entry as well as @d_d_g_larder + @nanette.oconnor
Good luck and happy baking!
RECIPE
Chocolate Olive Oil Cake
Serves 8 (or 4 chocolate lovers)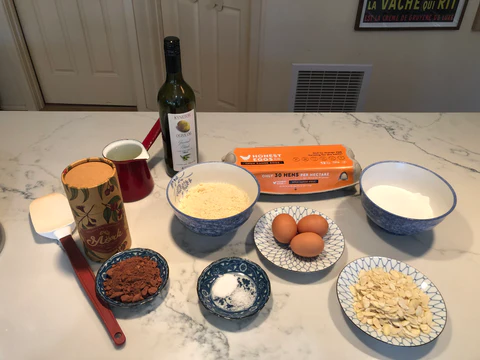 INGREDIENTS
50ml olive oil (Extra Virgin with good body is best)
50g cocoa powder
130ml boiling water
1 tsp vanilla extract
150g almond meal
1/2 tsp bicarbonate soda
Big pinch of sea salt
200g caster sugar
3 large Honest Eggs
30g shaved almonds (optional)
METHOD
Preheat oven to 170 degrees celsius. Grease and line a springform tin with baking paper.
Combine sugar, olive oil, Honest Eggs and vanilla extract in the bowl of a stand up mixer, beat on medium speed for about 3-4 minutes until mixture is light, fluffy and aerated.
In the meantime, sift the cocoa and combine with boiling water to make a smooth, lump free liquid.
Combine all of the dry ingredients in another bowl and mix well.
Combine the cocoa mixture with the egg mixture and fold through.
Pour in the dry ingredients and fold through. (The mixture will be quite liquid. Don't be alarmed!)
Pour this mixture into prepared cake tin and bake for approximately 40-50 minutes until a skewer comes away clean.
Scatter shaved almonds all over the cake (if using). Leave to cool on a cake rack.
TIP: You can enjoy this cake warm, at room temperature or our family's personal favourite – straight out of the fridge when it's fudgey.
For a full step-by-step, check out the @honesteggsco Instagram stories!
COMPETITION TERMS & CONDITIONS
This competition is open to residents of Victoria, Australia only.
Best looking and/or similar looking dish wins as judged by the Honest Eggs Co. team.
Judges decision is final and no correspondence will be entered into.
This competition is in no way endorsed or sponsored by Instagram.
Entries will be closed 11:59pm AEST 31 May.
One winner to be announced 1 June in our comments on Instagram and we will DM to arrange delivery.